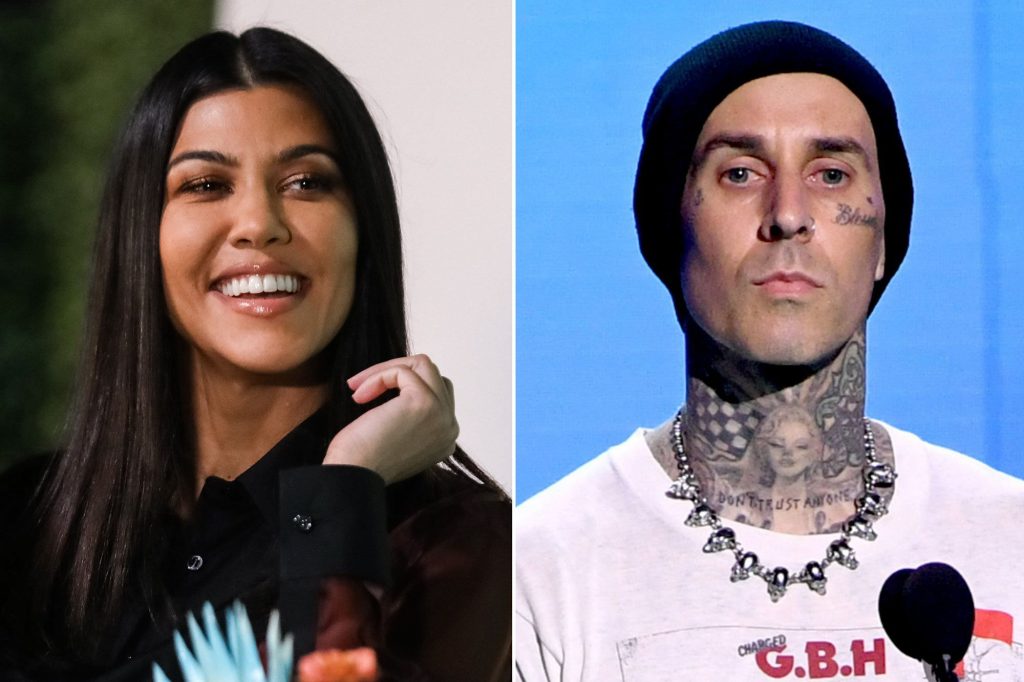 Were you surprised that Kourtney Kardashian ended up in a relationship with Travis Barker?
While most people were shocked, the evidence has been hiding right in front of us for many years. That's because these two have enjoyed a friendship that has only gotten more intense over time.
But how did the Keeping Up With the Kardashians star hook up with the Blink-182 drummer in the first place? To help you keep it all straight, we put together this relationship timeline for the two. Trust us: you're going to be very surprised at all the twist and turns in their romantic journey!
October 2017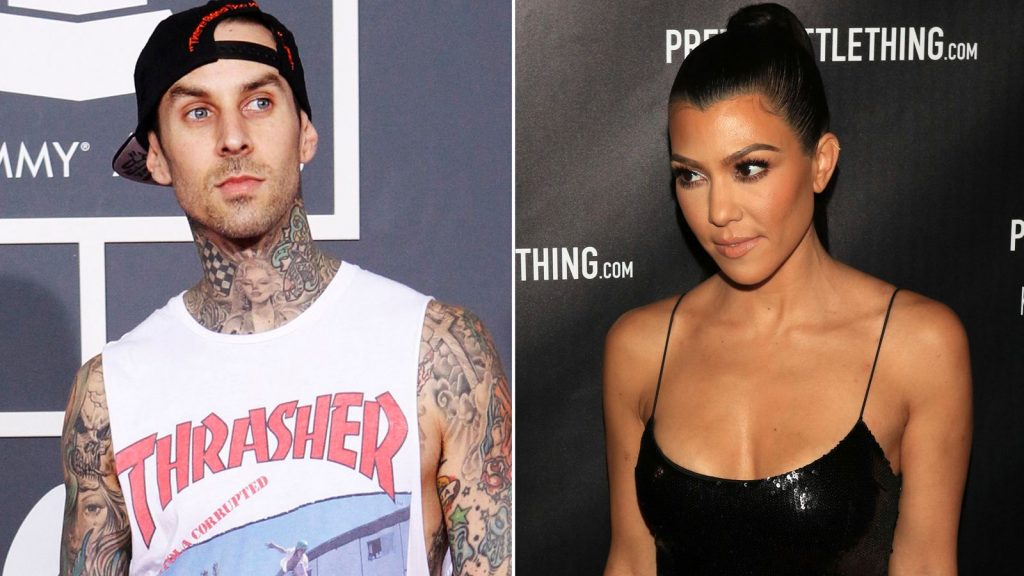 Where did it all begin? In October 2017, Barker and his daughter Alabama were being interviewed on Entertainment Tonight. That was when his daughter brought up having dinner with the Kardashians. "Actually, the other night I had dinner with all of them and they were really sweet."
Barker chimed in, saying, "I told her she had a power dinner.… I told Alabama that was a really cool dinner to be a part of."
September 2018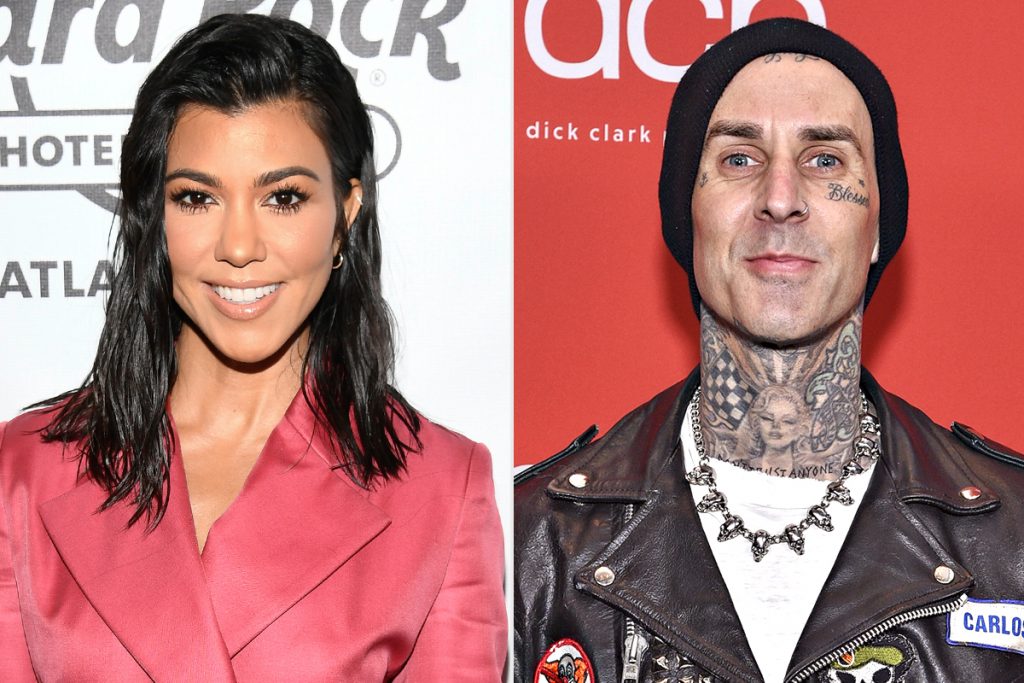 Over a year later, Barker and Kardashian were seen leaving a vegan restaurant in Los Angeles. This sparked the initial rumors of a relationship.
September 2018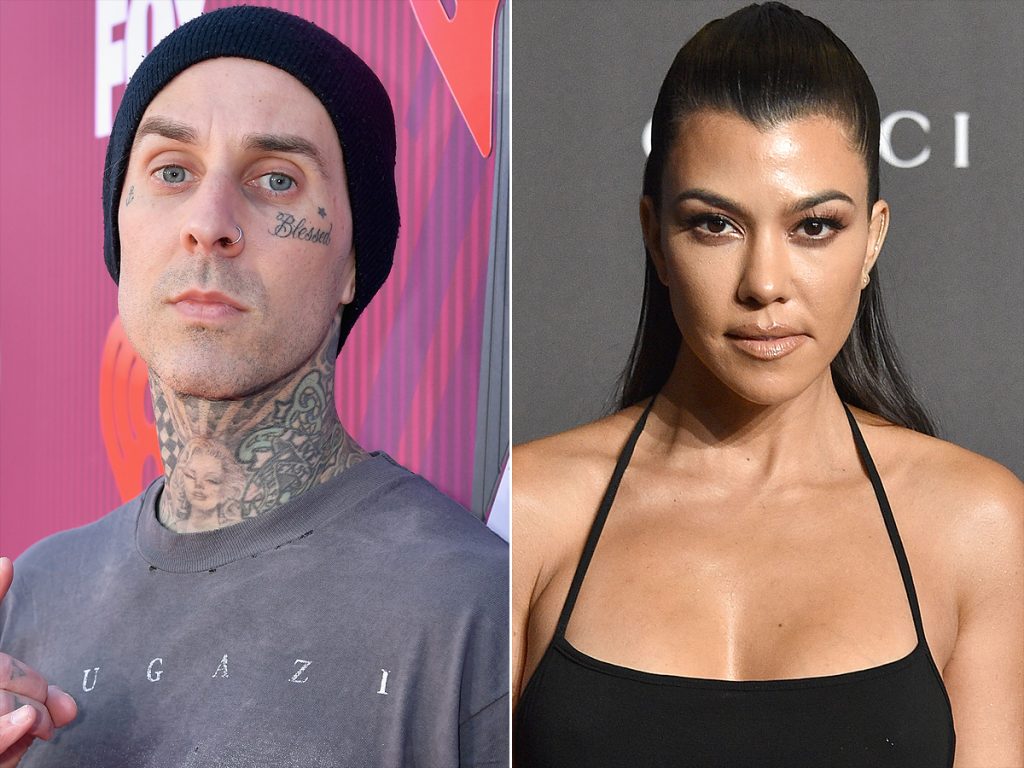 That same month, the two were seen attending an evening service together at Hillsong Church.
November 2018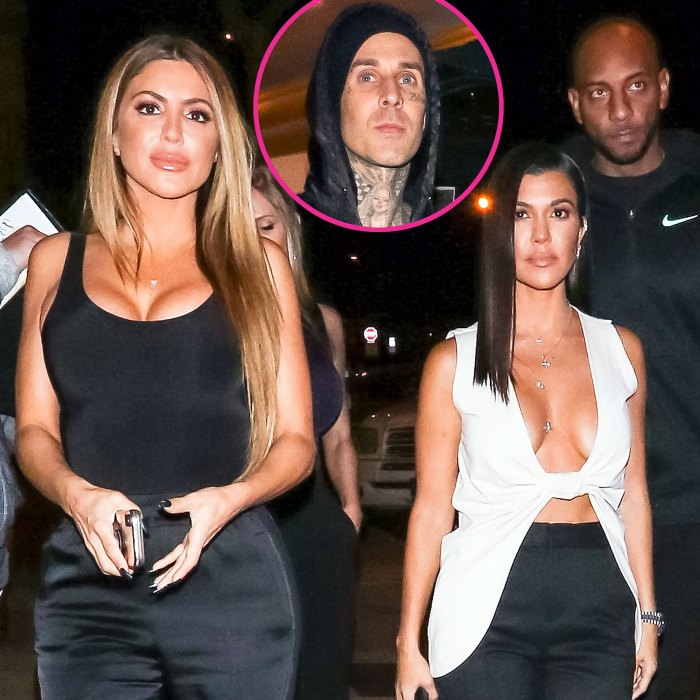 A couple of months later, Barker and Kardashian were spotted having dinner in LA's Crossroads restaurant. However, Larsa Pippen (wife of former NBA star Scottie Pippen) was with them, which made fans speculate whether this was a date or not.
February 2019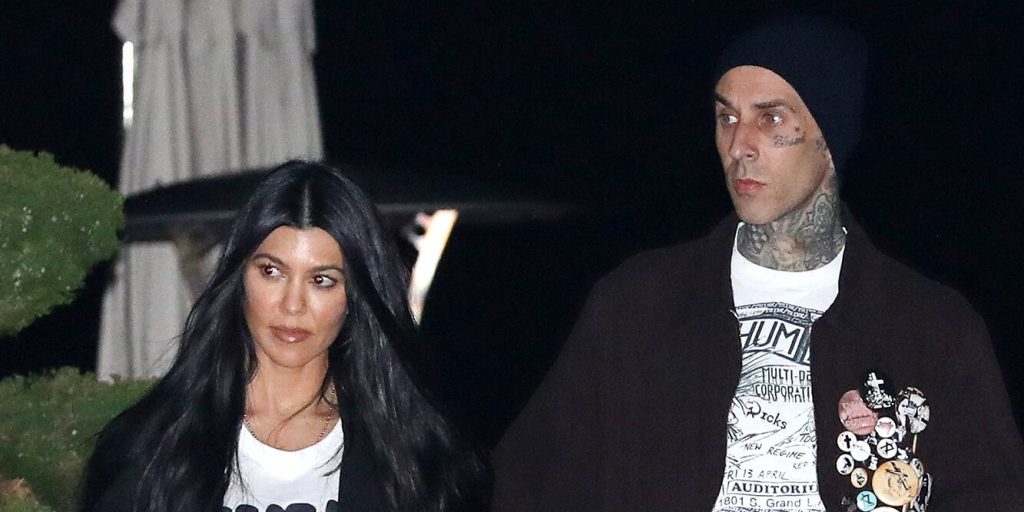 In February 2019, Barker and Kardashian stepped out of their Los Angeles comfort zone to enjoy a night together in Malibu.
January 2021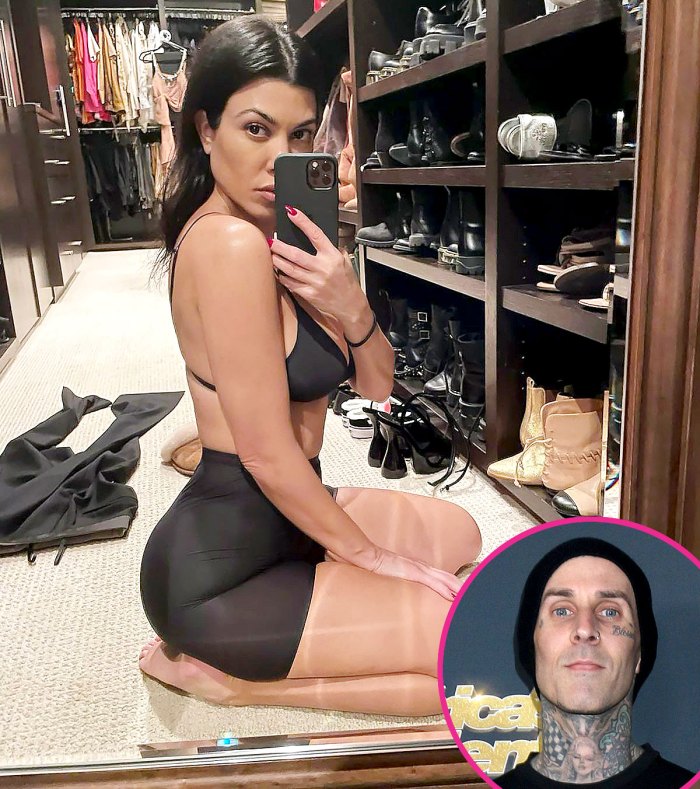 For nearly two years, it seemed like things had really cooled down between Barker and Kardashian. However, in January 2021, he started dropping some serious flirtation on her Instagram. And when she posted a sexy mirror selfie, Barker responded with a sweet rose emoji.
January 2021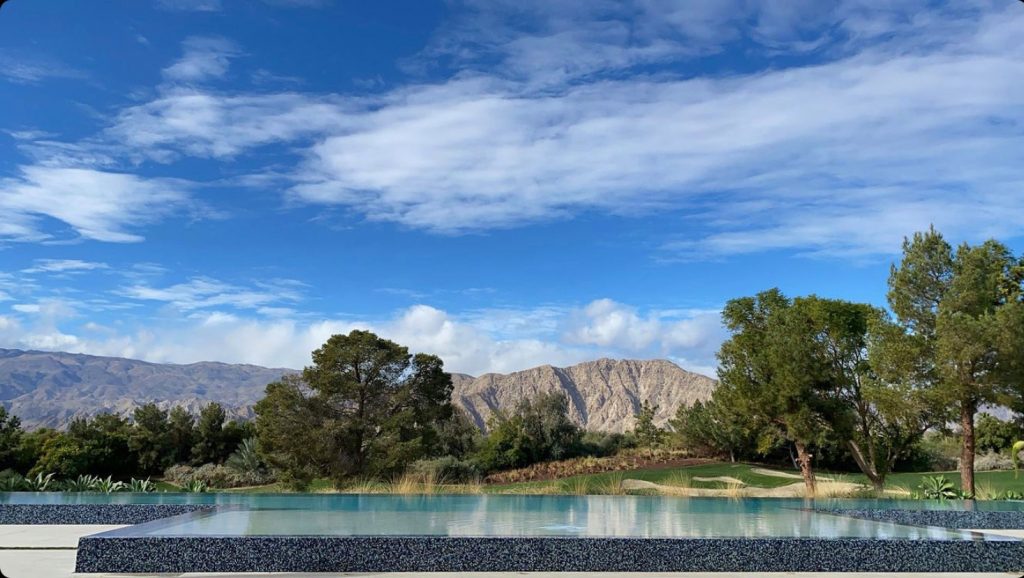 Things are starting to move fast! On Jan. 22, both Barker and Kardashian posted photos to their Instagram Stories of the same pool from a vacation home owned by Kris Jenner, suggesting they were indeed hanging out.
January 2021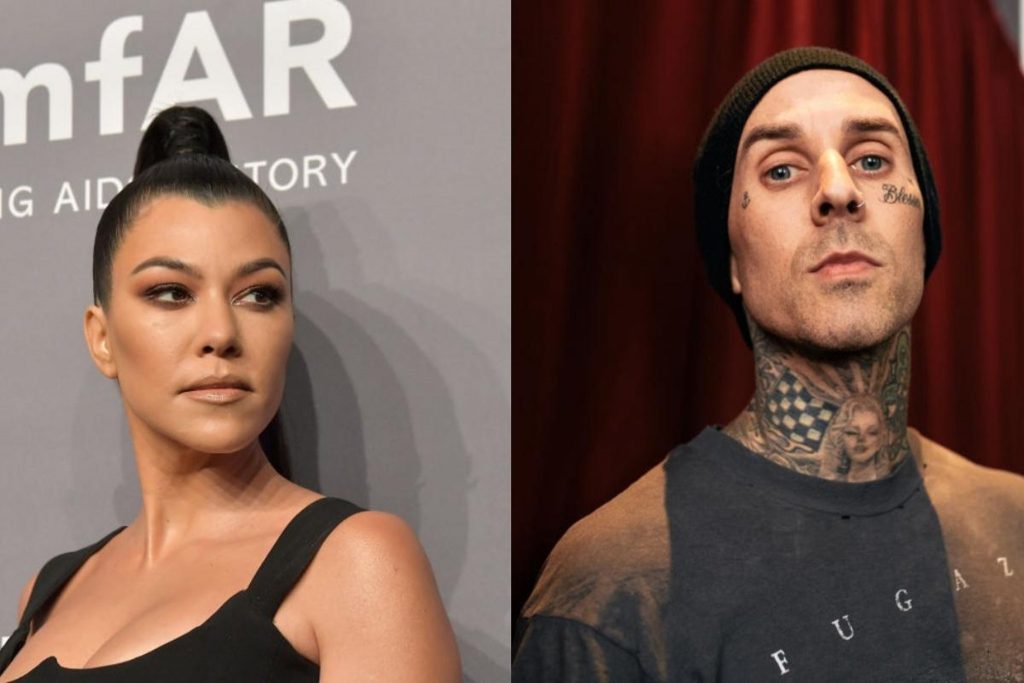 At this point, their relationship status is the world's worst kept secret. At this point, Us Weekly confirmed their official relationship status and that Barker has had feelings for Kardashian for quite a while.
February 2021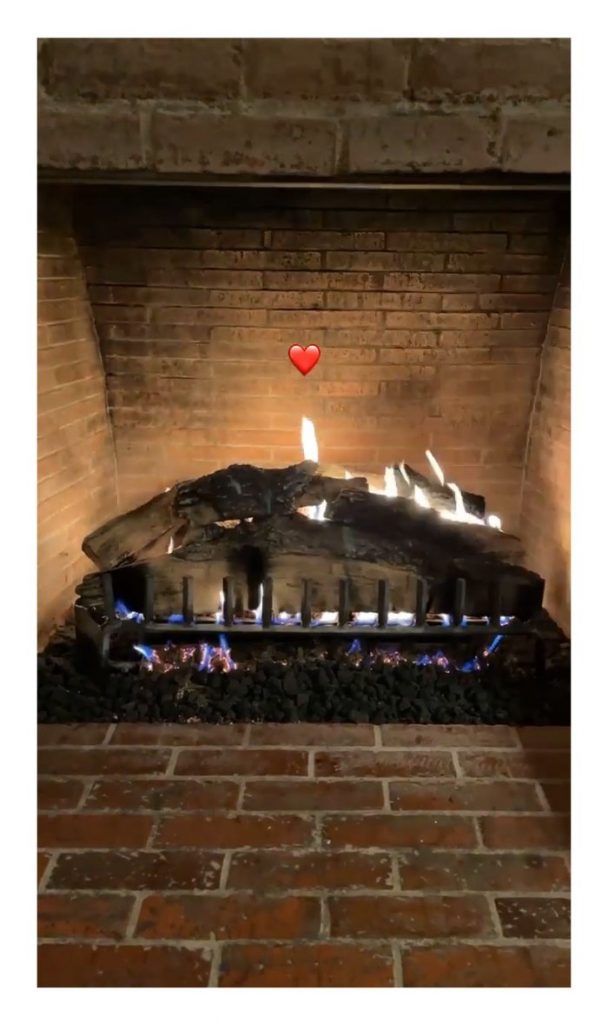 What did the couple do for their first Valentine's Day together? They kept things simple and hung out near an outdoor fireplace.
February 2021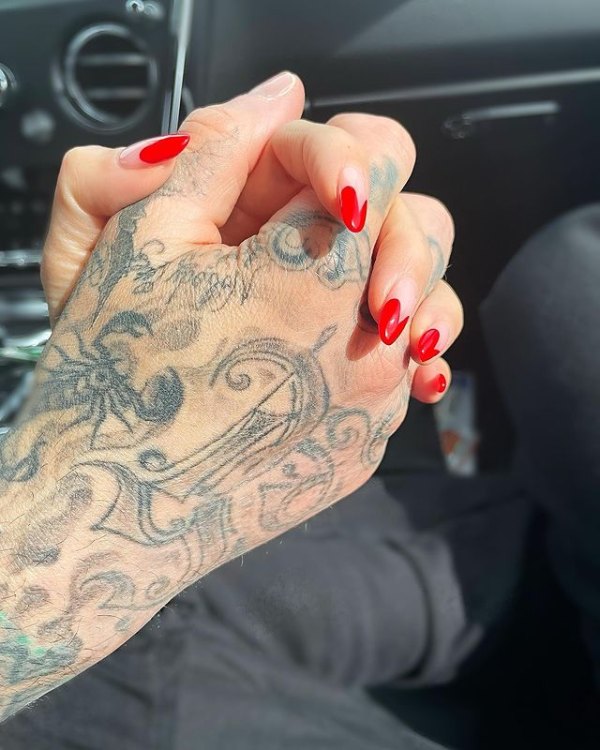 Is anyone really dating until they go official on Instagram? After a fun Valentine's Day together, the two posted a photo on IG of them holding hands together. They are now IG official!
March 2021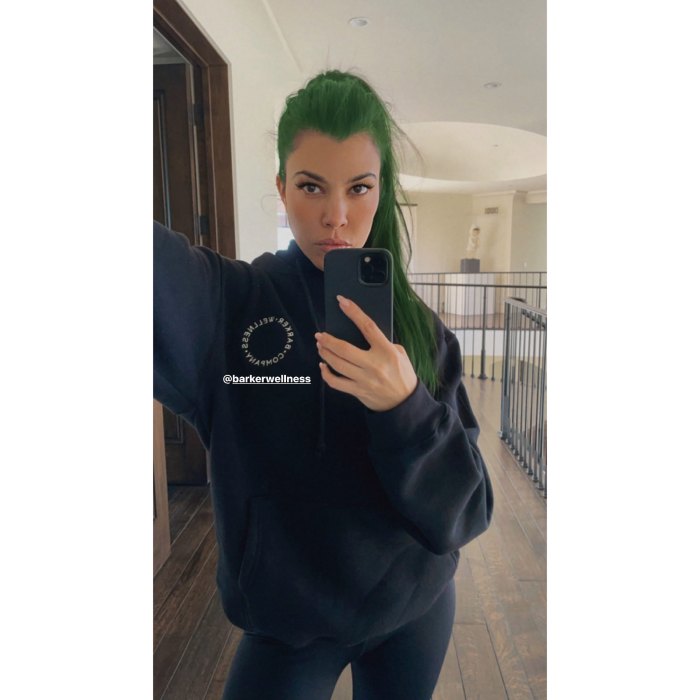 Part of being a famous couple is helping to boost each other's brands. On March 6, Kourtney wore a special sweatshirt for her Instagram Stories. The shirt advertised Barker line of CBD-infused products.
March 2021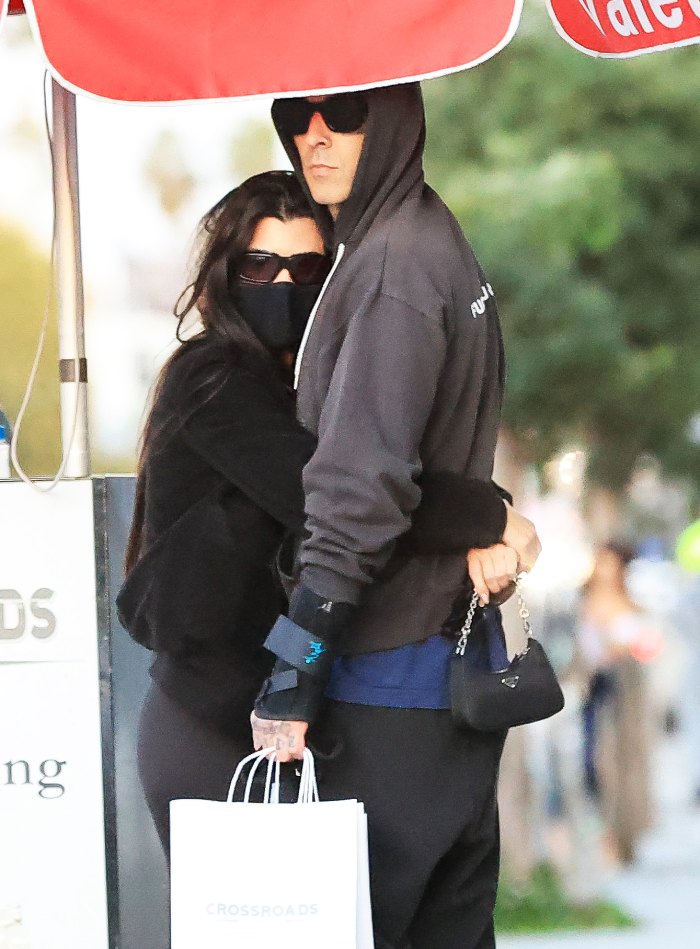 Things come full circle? Barker and Kardashian are once again seen at the Crossroads restaurant, this time in West Hollywood. Nobody else is with them and the two are quite affectionate. This time, it was definitely a date!
March 2021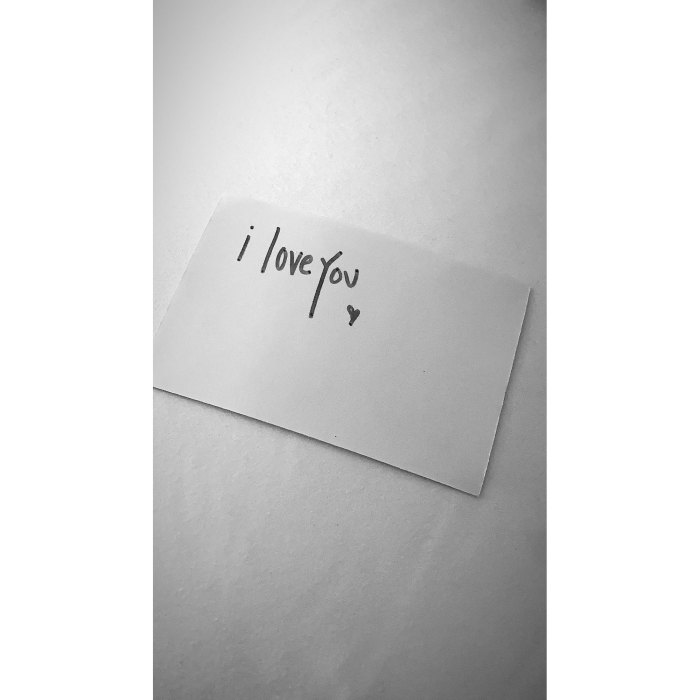 Dating is one thing, but how do these two actually feel about each other? In March 2021, Kourtney gave Travis a handwritten note that says "I love you" and has a heart for a signature. Barker shared this to his IG story, letting the world know how in love the two are.
March 2021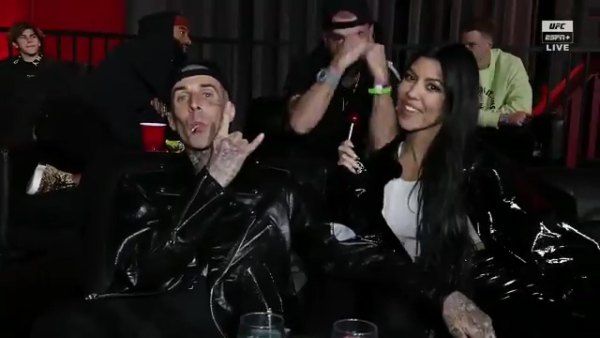 Shared interests bring couples together, and Barker and Kardashian both like UFC fighting. In March 2021, they traveled to Nevada to check out the FC 260: Miocic vs. Ngannou 2 event. And they had some famous company: their seats were close to Megan Fox and Machine Gun Kelly.
April 2021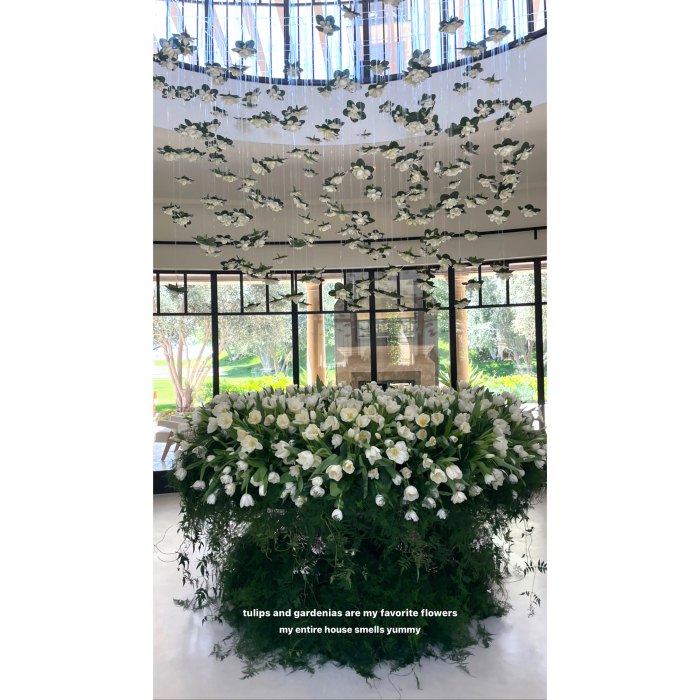 Kourtney turned 42 in April 2021. To help her celebrate, Barker sent her a giant display of white gardenias and tulips. This led to a romantic birthday evening and even some decadent dessert.
April 2021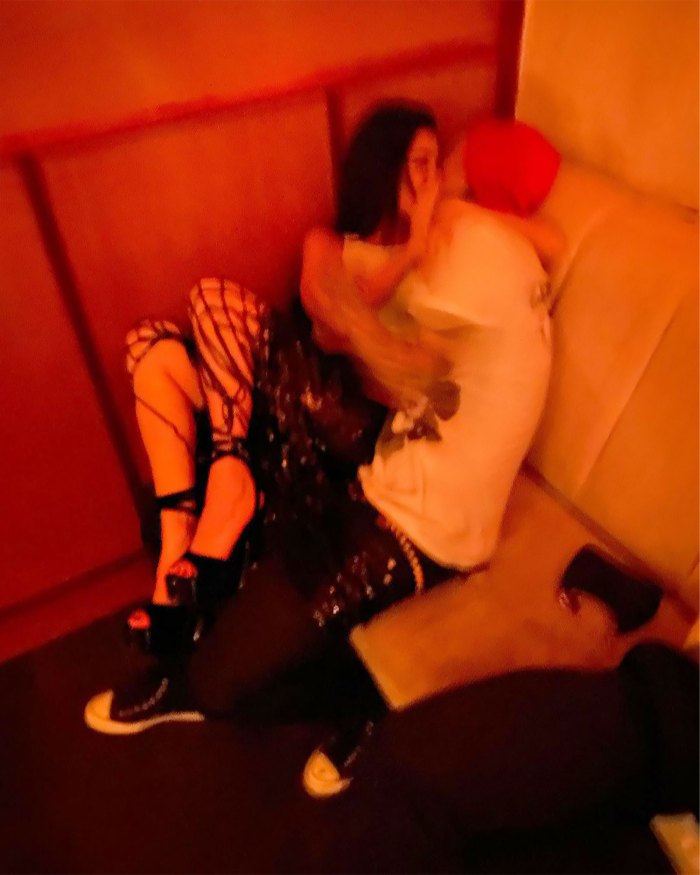 Keeping the passion alive! In April 2021, Barker shared a blurry photo of himself and Kardashian making out like they are the last people on earth.
April 2021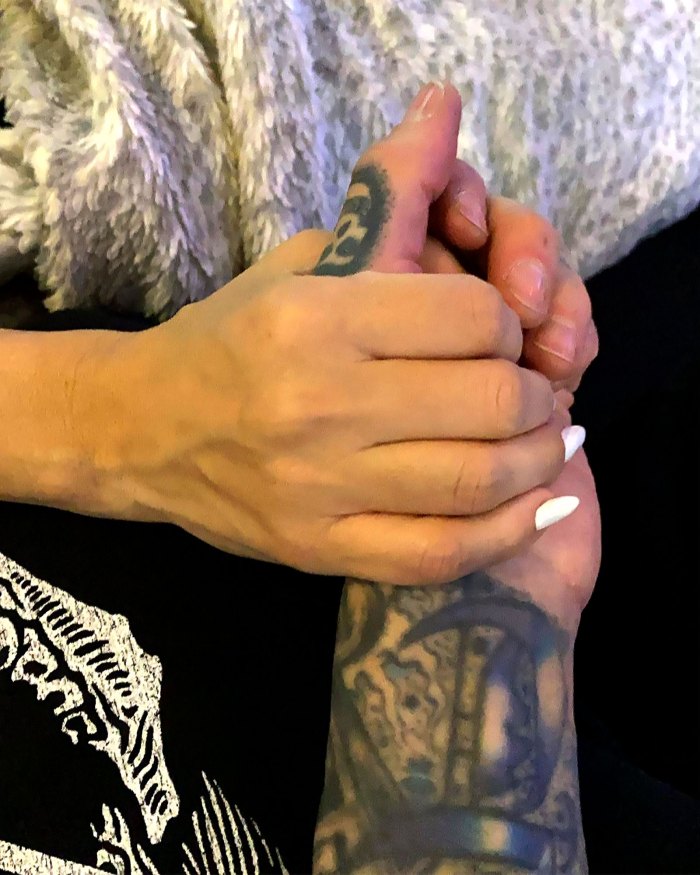 Echoing the time they went IG official, the couple post another photo where they are holding hands. The photo gives us a great glimpse of both his tattoos and her manicured nails.
April 2021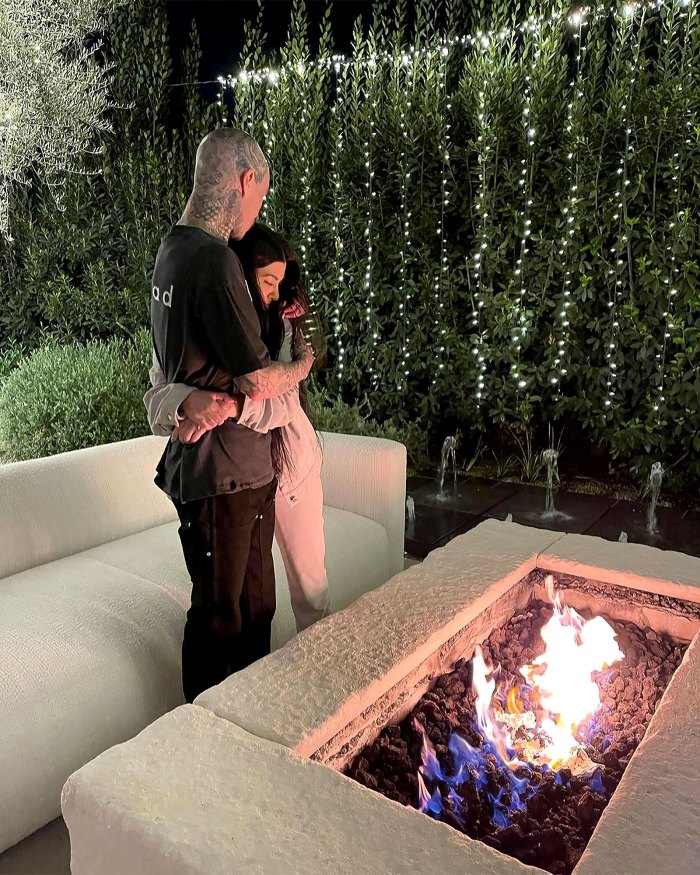 Barker is a man of few words, but he knows how to make them count. He posted a birthday series of Kourtney photos to IG with captions like "YOU'RE A BLESSING TO THIS WORLD" and "HAPPY BIRTHDAY."
April 2021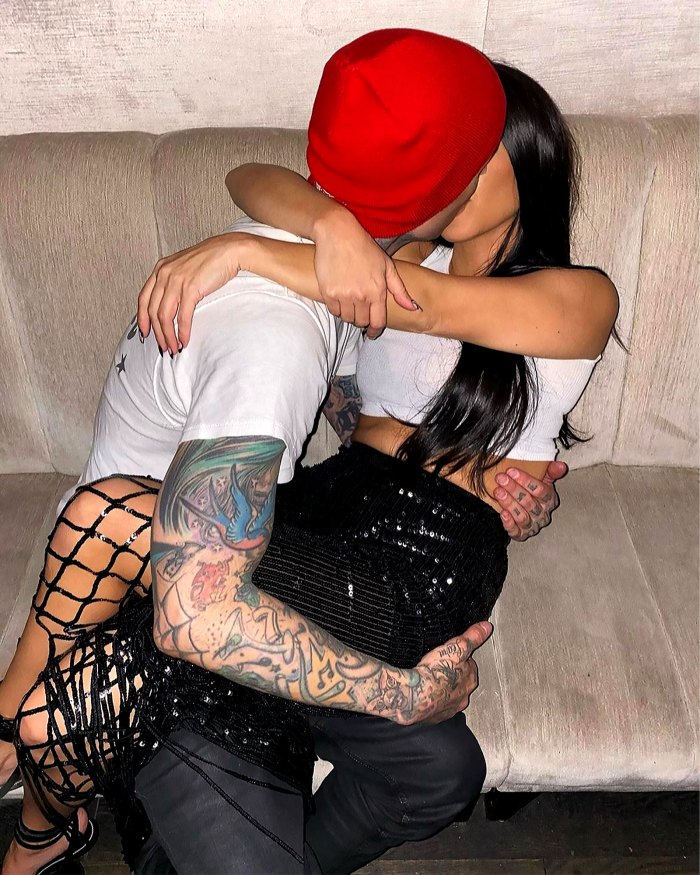 Part of the birthday celebration including Barker posting a slideshow of photos to IG. And this included more images of the couple passionately making out.
April 2021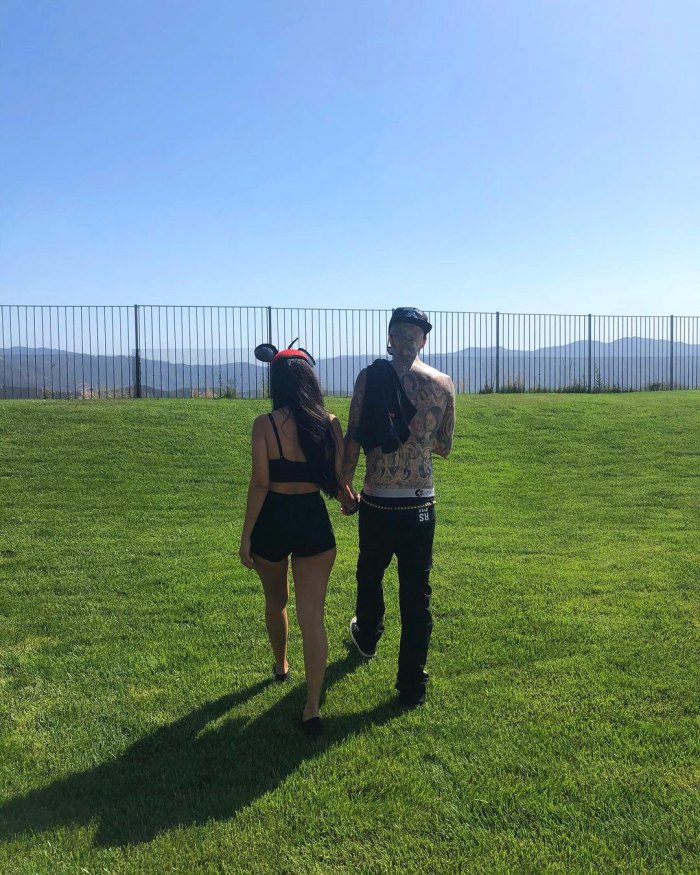 Kourtney's own birthday photos were more conservative, but they were also cuter. For example, this pic of her rocking Mickey Mouse ears and holding hands with Travis.
April 2021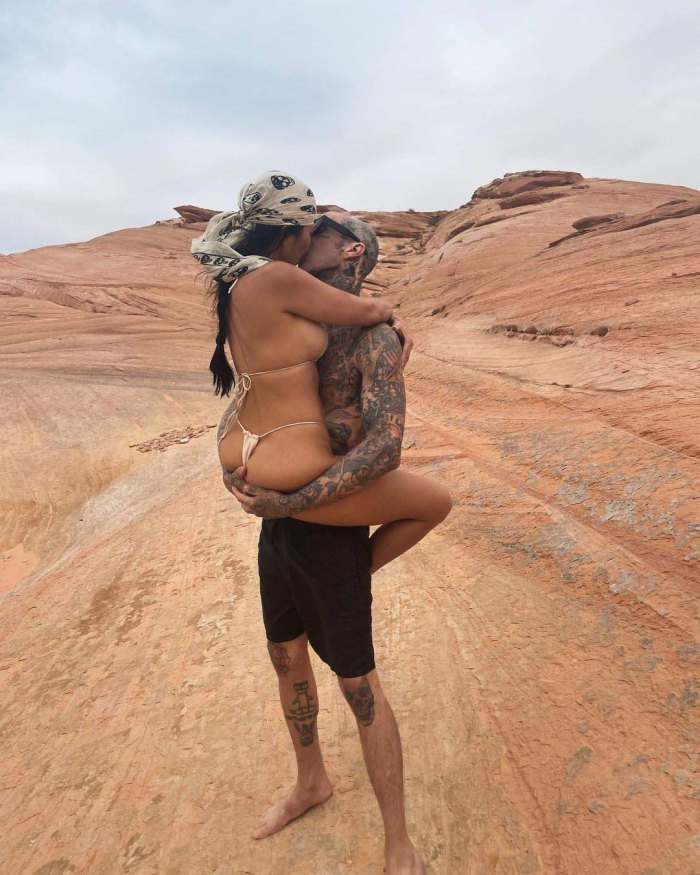 And now for something completely different! While visiting family in Utah, the couple posed for a passionate desert kiss. It must be hot out there considering how few clothes they are wearing!
April 2021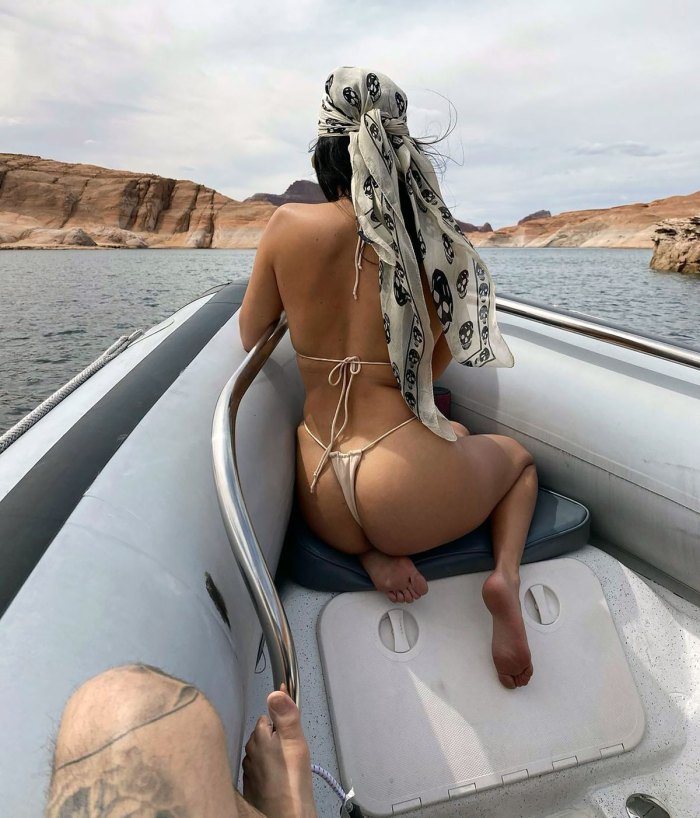 Somehow, Barker has mastered the art of appearing completely horny and completely sweet at the same time. In April 2021, he posted outdoor adventures photos to an IG slideshow that showed him clearly ogling Kourtney's backside. But he captioned it sweetly enough by writing "Anywhere with you."
May 2021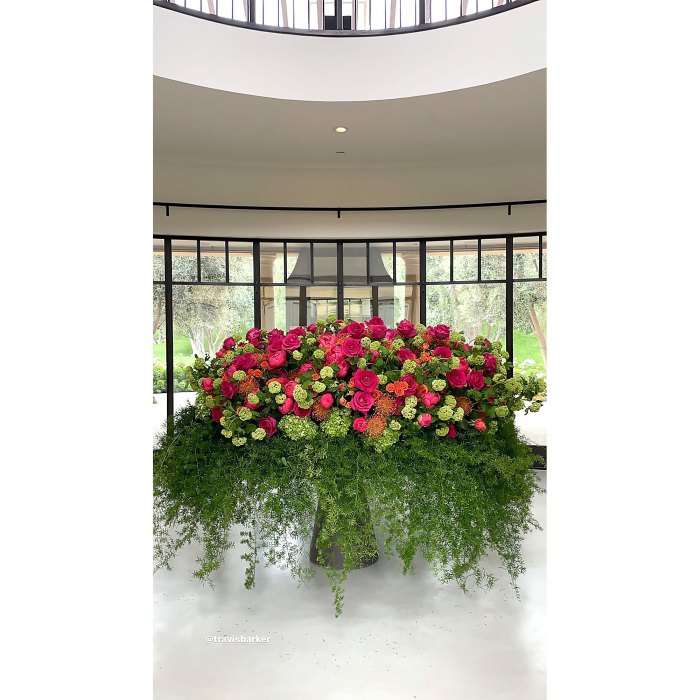 This was going to be their first Mother's Day as a couple, and Kourtney is mom to three children. To help celebrate the day, Barker gave her three large arrangements of pink roses, orange roses, and peonies. Judging by the red heart and crying emojis Kourtney later posted to IG, the flowers were a big hit!
May 2021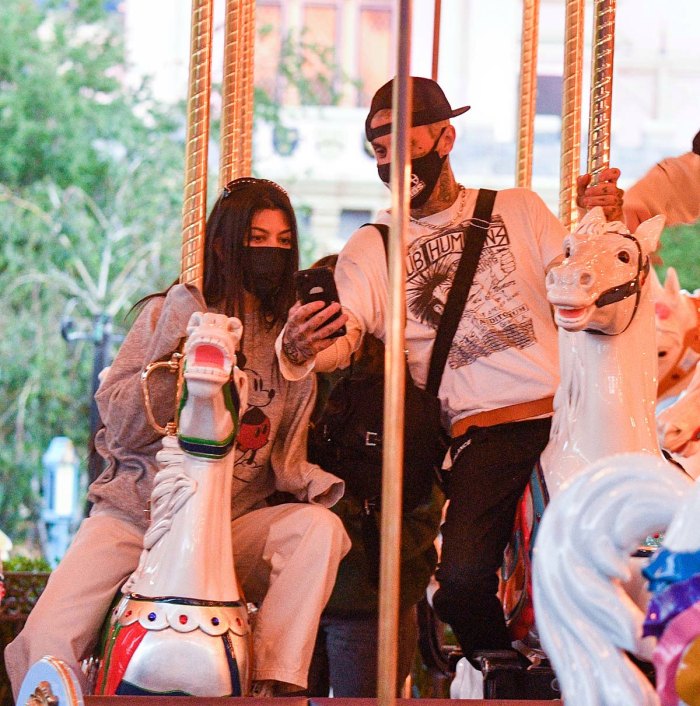 This could have been a rocky month for the couple. After all, Barker's ex-wife Shanna Moakler suddenly claimed that he cheated on her with Kim Kardashian in 2008. (Kim and Travis have both denied the accusation.) But one day after that bombshell accusation and the couple took their kids to Disneyland, where everyone looks quite happy.
June 2021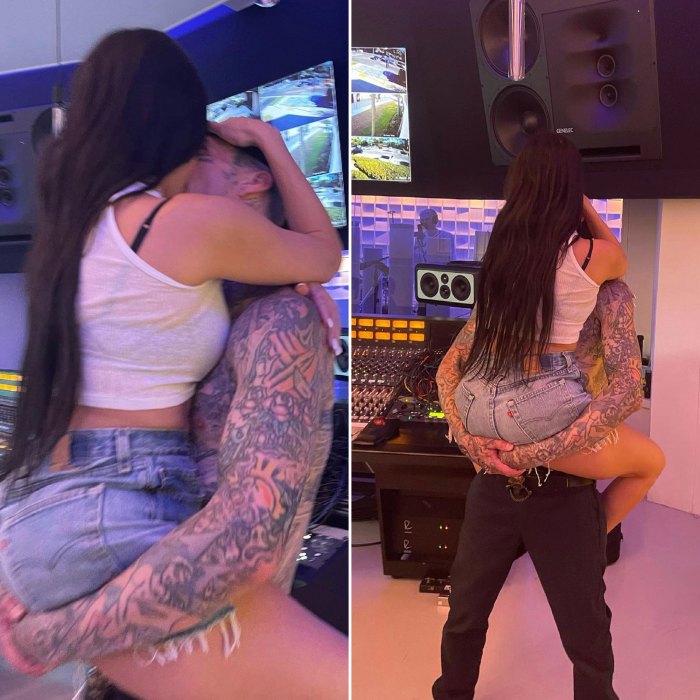 If there is one thing this couple likes, it's public displays of affection. After a date night at Barker's recording studio, they posted these hot and heavy pics to Instagram.
June 2021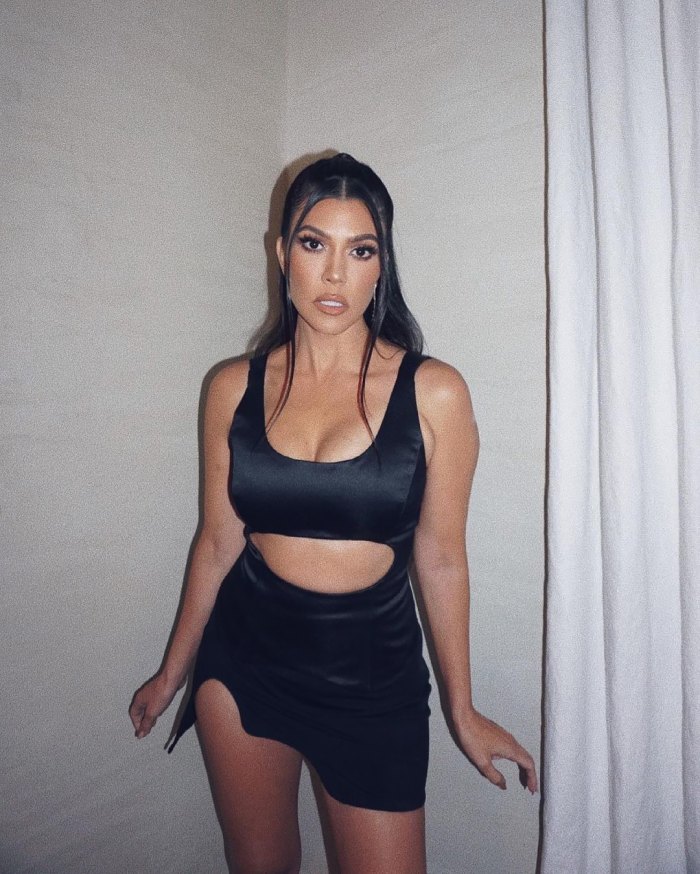 Again, Barker shows a weird talent: this time, a talent for making weird comments sound sweet. After Kourtney showed a series of photos where they each wore all black and she sat in his lap, Barker commented with skull and crossbones emoji and declared that she was "My vampire 🧛🏻‍♂️🖤."