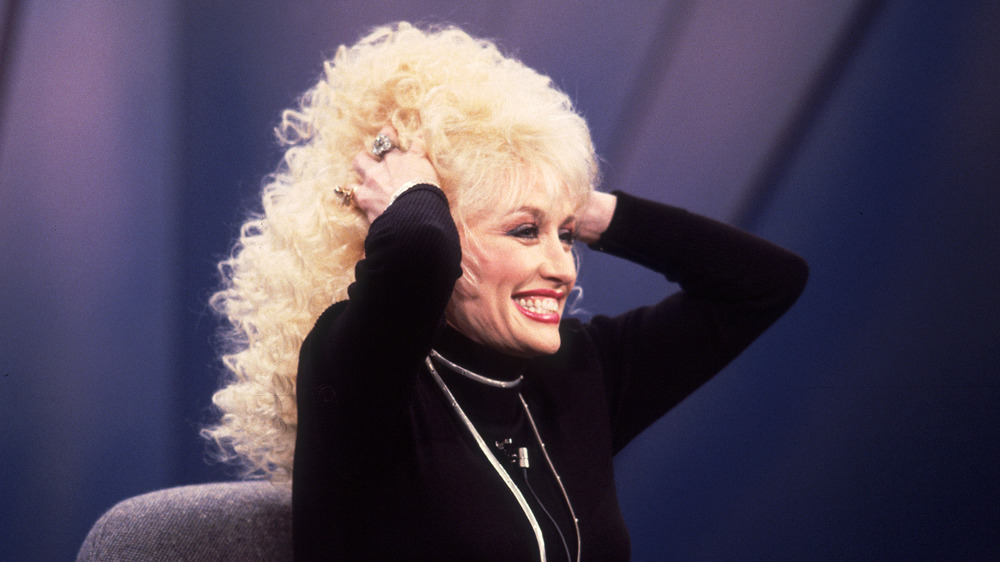 You might not be surprised to learn that many male celebrities wear toupees. But did you know that many female stars wear wigs too?
Countless female celebrities have always made wigs, extensions, and weaves a part of their signature look. Some women, like Dolly Parton, have famously been wearing wigs for decades. Other stars you may be surprised to learn are not rocking their natural hair.
Either way, wig-wearing stars are notorious for rarely letting their natural tresses on camera. Here are 21 shocking before-and-after photos of what celebrities really look like when they take their wigs off and let their hair down!
Cher
Cher has famously been rocking wigs since the '60s. But according to her friend comedian Kathy Griffin, Cher's hair under the wigs looks very much like we'd expect it to.
"It's real, thick, long black hair that is parted and halfway down her back," Griffin writes in her book in her book Kathy Griffin's Celebrity Run-Ins. "Her real hair is Cher Hair!"
Kathy Griffin
Kathy Griffin herself is no stranger to wearing wigs. The standup comedian's naturally curly red hair became her signature look in the '90s, and the red locks are easier to upkeep with wigs. Griffin revealed a look at her real hair in an episode of her reality show Kathy Griffin: My Life on the D–List.
Dolly Parton
The higher the hair, the closer to God, or so the saying goes. Country music legend Dolly Parton definitely agrees, referring to wigs as her "trademark."
"My own hair is so flat and fine. I could never make it do anything — that's why I wear wigs," she's said. "Wigs are just so handy. I'm so busy, and I have so many choices. I never have a bad hair day, and that's a good thing."
But the "I Will Always Love You" songwriter shared a rare snapshot of her real hair in her 2020 book Dolly Parton, Songteller: My Life in Lyrics. The image on the right above is from a recording session around 1965. "In case you're wondering, yes, that's my real hair," Parton wrote.
Reba McEntire
Like Parton, Reba McEntire is another country music legend whose wigs have become part of her signature look. So much so, that it's almost impossible to find a photo of Reba without her wig on.
Still, Reba's natural hair can be seen in this 1990 photo after she gave birth to her son Shelby Blackstock.
Jane Fonda
Jane Fonda has had a remarkable film career since the 1960s. She's not only worn wigs for some of her most famous roles, including 1968's Barbarella, but also when she makes public appearances. Her real hair in the photo on the above right, however, proves she's still one of the most naturally glamorous women in the world.
Nicki Minaj
Part of Nicki Minaj's trademark looks is rocking bright candy-colored wigs, like the pink one above. But Minaj revealed on Instagram her real hair is quite long and healthy!
Katy Perry
Like Nicki Minaj, Katy Perry is known for sporting a series of long, brightly-colored wigs. But the "Teenage Dream" singer traded in her blue and pink wigs for a short blonde pixie cut in 2017.
Halle Berry
For years, Halle Berry famously sported a pixie haircut before switching her style to a series of long wigs around 2003. But in his high school photo of Berry, you can see her naturally gorgeous hair.
Sharon Osbourne
Sharon Osbourne's short red pixie hairdo is instantly recognizable. And Osbourne appears to have kept up this look occasionally with wigs since her family's hit MTV reality show The Osbournes began airing in 2002.
However, the former host of The Talk decided to retire her red 'do and debut her natural gray look in February 2020.
Beyoncé
Few people have long blonde hair as iconic as Beyoncé. The "Crazy In Love" singer achieves her signature look with the help of wigs, extensions, and weaves. But in the photo on the right above we see Beyoncé's naturally beautiful hair!
Lisa Rinna
The Real Housewives of Beverly Hills star Lisa Rinna loves to wear wigs, and has shown off many different wigs on Instagram. Though, she's denied the signature shaggy haircut she's best known for is a wig.
Still, on the above right photo we can see definitive proof of what she looks like without a wig. Look closely and notice her natural hairline.
Wendy Williams
Talk show host Wendy Williams has not hidden the fact that she achieves her iconic look with the help of wigs. But here we can see a photo of her in her early career days sporting her naturally lovely locks.
Lady Gaga
Lady Gaga changes her wigs about as often as the rest of us change our clothes. Still, her naturally long brown hair can be seen in this photo from her earlier days when she was just Stefani Germanotta.
Cardi B
Cardi B knows how to rock a wig, and shut down any wig naysayers on her Instagram in June 2020. She praised wigs, saying wearing wigs "helps with hair growth ALOT [sic]!"
And the pic of Cardi's naturally long and beautiful hair on the above right proves that she knows what she's talking about!
Kylie Jenner
Kylie Jenner is no stranger to wearing wigs. In fact, in 2016, she claimed to Marie Claire that she started the whole wig craze!
"I started wigs, and now everyone is wearing wigs," she said. "Kim [Kardashian] just used my wig guy last night… I just do whatever I want to do, and people will follow."
Zendaya
Unlike the other ladies on this list, Zendaya does not seem to make a regular habit of wearing wigs on the daily. But the Spider-Man: Homecoming star has occasionally been spotted trying out wigs, like the short bob cut above on the left, for special events and red carpets.
Ariana Grande
Let's face it: Ariana Grande's long ponytail extension is almost as famous as she is! But the "Thank U, Next" singer shared a rare photo with her extensions taken out on her Instagram.
Rihanna
These days, Rihanna is more focused on her Fenty fashion and beauty lines than on her music career. In the above photo on the right, she sports a no-fuss, wig-free look that showcases her natural beauty!
Kim Kardashian
Like her sister Kylie Jenner, Kim Kardashian has been known to change her style with wigs and extensions. But in her casual look on the right, Kim has forgone with the wigs to put her hair up in a quick and effortless bun.
Tyra Banks
Tyra Banks is one of the most successful supermodels in history. Here, she shows off her natural hair, no wig or extensions, in a photo on her Instagram from August 2019.
Kim Zolciak-Biermann
The Real Housewives of Atlanta star Kim Zolciak-Biermann is never seen without her trademark long blonde wig. Except in this rare throwback photo.