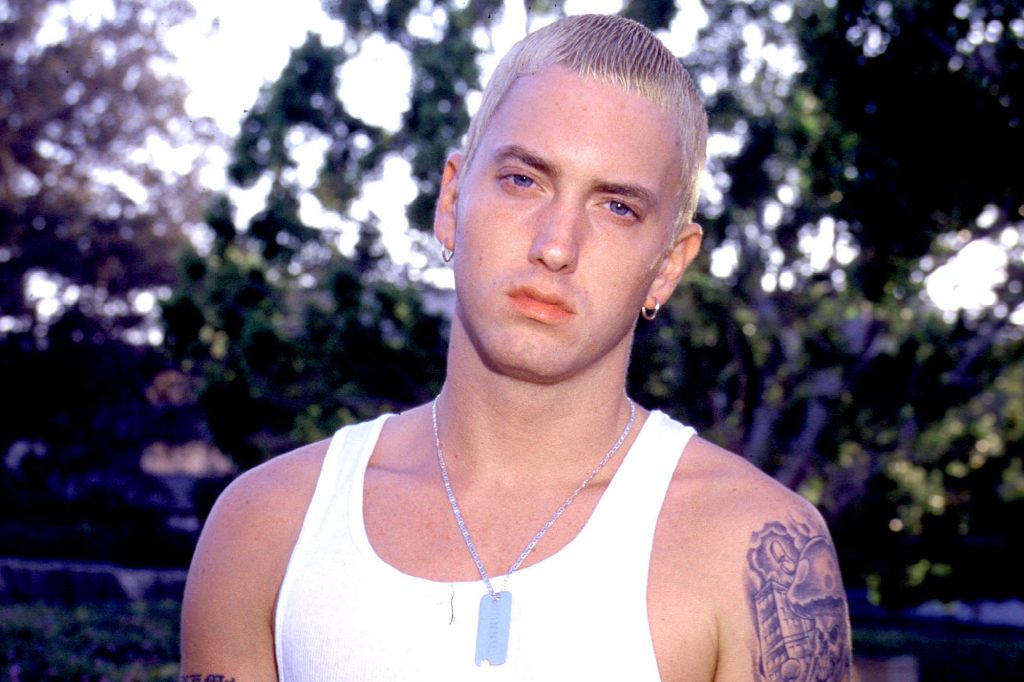 In "The Real Slim Shady," Eminem famously asks "will the real Slim Shady please stand up?" But at this point, the better question might be this: who, exactly, is the real Slim Shady?
Eminem goes by multiple names, including Marshall Mathers and Slim Shady. And he starred in a film, 8 Mile, that was basically a biography of his life… except for when it wasn't. So even though Eminem is one of the most famous and influential rappers in history, many don't know who he really is and what made him the man he is today.
But that stops here. And that's because we've got the scoop on the truth about Eminem.
The childhood years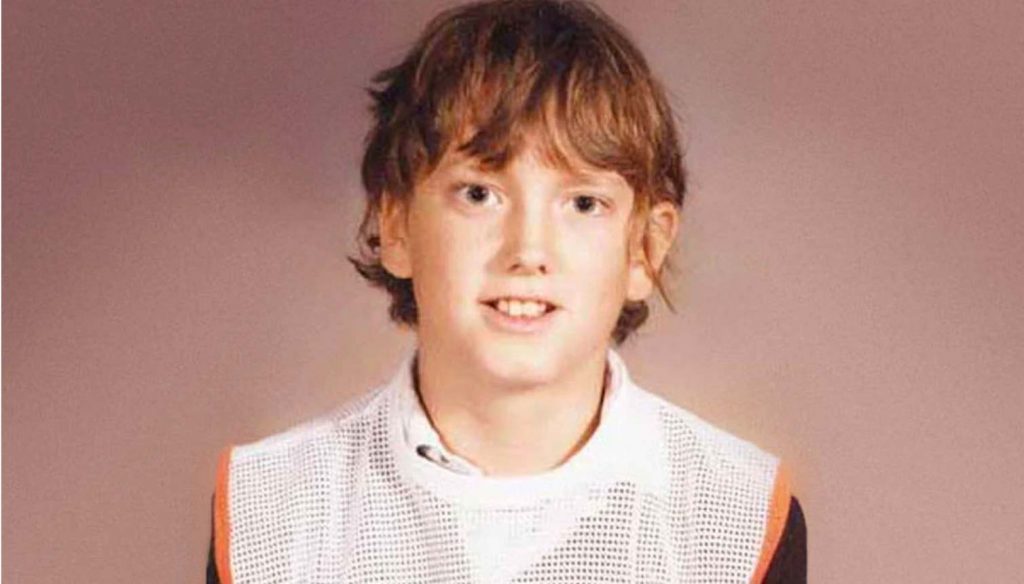 Eminem's real name is Marshall Mathers III. He was born to Marshall Mathers Jr. and Debbie Mathers-Briggs. While his parents were both musicians, they couldn't find harmony off the stage, and they split up. This resulted in Eminem's mother taking him back with her to Missouri, where a young Eminem would write his father letters and never get a response.
The young man and his mother eventually moved to Detroit. This would be a formative time in Eminem's life, but it was also traumatic. As Salon reports, Eminem was allegedly beaten up so hard by classmate DeAngelo Bailey that it put the future singer into a coma at age nine.
Bailey frequently attacked Eminem, and his mother lost a lawsuit against the school for allowing such bullying to occur. But Eminem got the last laugh by dissing Bailey on the track "Brain Damage."
Hip-hop fan from way back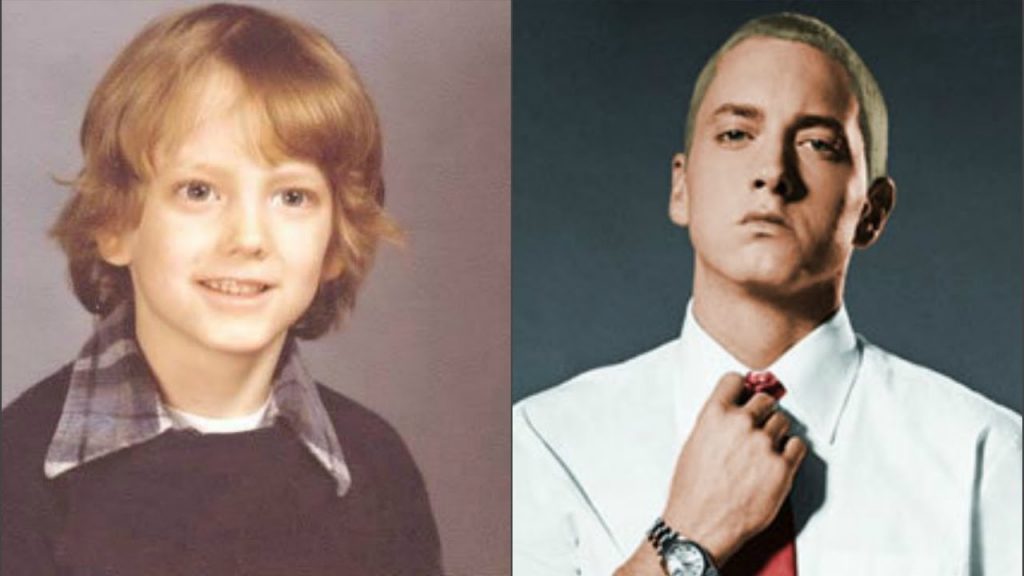 As a white rapper, Eminem always stood out. But to hear him tell the story, he fell in love with hip-hop at a young age. In an interview with Mike Tyson, Eminem said that he was influenced by bands such as The Fat Boys, Run DMC, and the Beastie Boys.
As Eminem told Tyson, "First I was a fan of the music before I even thought about rapping. LL Cool J was the one who made me first start writing rhymes," he said said. "And I was like 12, 13 maybe. And it sucked. I wasn't good." This caused him to quit for a couple of years, but he started rapping again at 15, and he never quit after that.
Rap battle champion
Eminem's rap career was effectively launched when he started going to rap battles. This happened because his friend Proof encouraged him to try it. And as he explained to Tyson, it helped that Proof had local hip-hop connections, and Proof eventually got Eminem to show off his rap skills at a place called The Hip-Hop Shop.
He was really only performing for about ten people, but Eminem recalls "I got some people jumping around." And when the Shop started doing rap battles, Eminem won the first competition, and he soon began attending area rap battles several times a week.
And Eminem's rap career began snowballing. He made it to the finals of 1997 "Scribble Jam" held in Cincinnati, Ohio but lost to another rapper. But he did well enough to score an invitation to the Los Angeles Rap Olympics. While Eminem didn't win, his name and his songs were not extending far beyond Detroit. And he would later retell a version of these early rap battle days in the film 8 Mile.
What's in a name?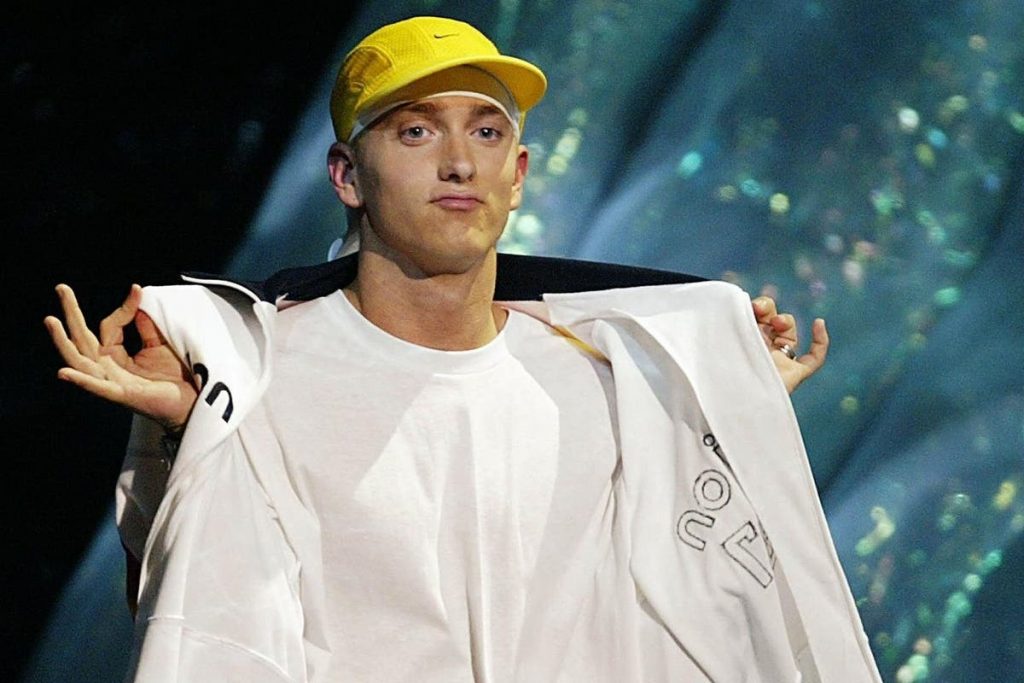 As we said before, Eminem is a man of many names. But where did these names come from?
The singer was born Marshall Mathers III. As Genius points out, he appeared on a New Jacks album under the name MC Double M. This was most likely just a reference to Marshall Mathers, but Salon points out that the singer eventually started calling himself M&M instead. This, of course, eventually became the more familiar Eminem.
So where does Slim Shady come in? D12 bandmate Bizarre explained on Vlad TV that each member of the band was meant to have an alter ego. Eminem made his alter ego Slim Shady to be a harder and angrier version of himself, especially after critics thought Eminem originally sounded too much like famous New York rapper AZ. As for where the name came from, the characteristically blunt singer told Rolling Stone he thought of it while he was on the toilet!
Linking up with Dr. Dre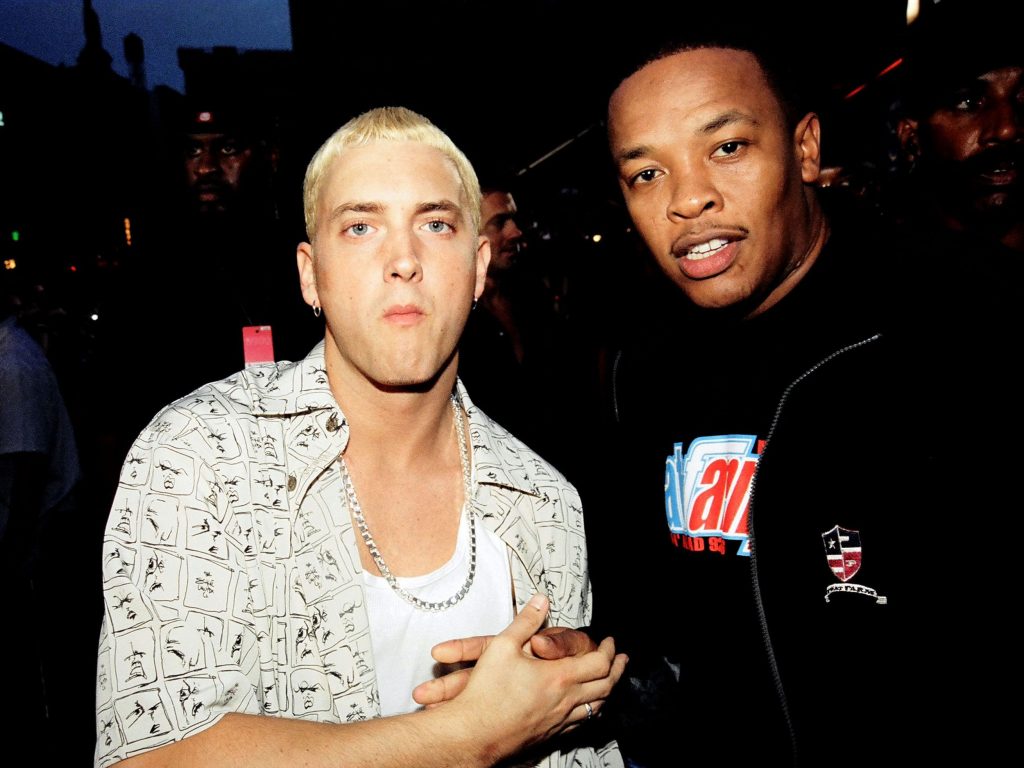 At this point, a devastated Eminem was flying home after losing multiple major rap battles. He then found out he had been evicted while he was gone! While this was the lowest point of his life so far, everything was about to change.
That's because a young Dean Geistlinger asked Eminem for his CD back in Los Angeles. The young man worked for famous record executive Jimmy Iovine, and this exec passed the CD on to Dr. Dre Soon after, Dre invited Eminem over to record in his home studio.
Dre was immediately taken by Eminem's talent. On "The Defiant Ones," Dre recalled that Eminem just instantly came up with a killer hook for Dre's beat. After that, Dre served as Eminem's friend and mentor.
Beef with… clowns?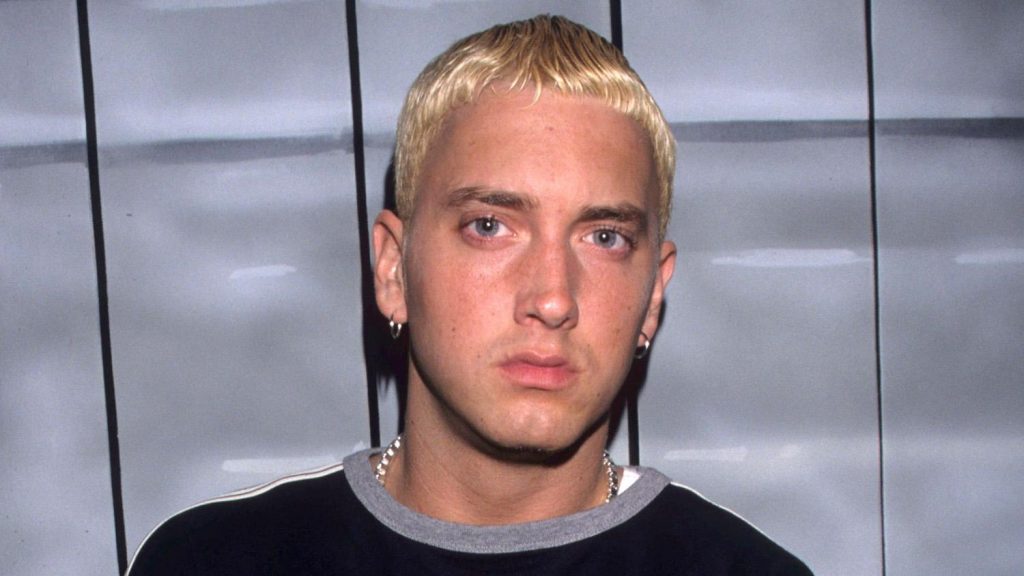 Did you know Eminem has mad beef with the Insane Clown Posse? It's true: they dissed him on an album and so Eminem dissed them back with a vulgar skit on The Marshall Mathers LP. According to MTV, this culminated with Eminem waving a gun around while arguing with ICP employee Douglas Dail. That very same day, he was busted for a nightclub incident that landed him "felony charges of assault with a deadly weapon and carrying a concealed weapon without a license."
Looking back, Eminem is fairly honest about what happened. In an interview with The New York Times, he said that due to his success, "I just got caught up in the drinking and the drugs and fighting and just wilding out and doing dumb things I shouldn't have been doing."
Trouble with drugs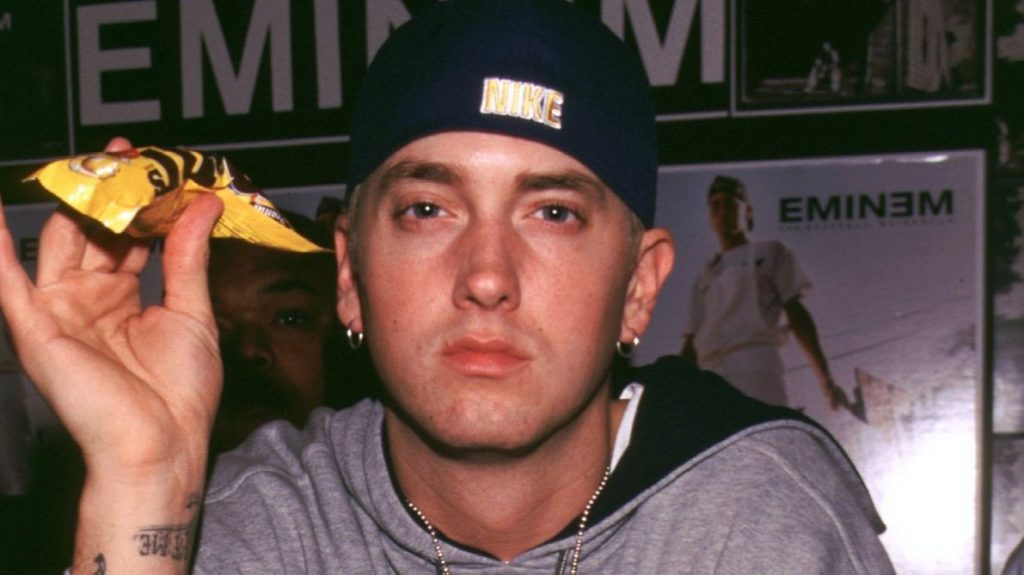 Dre helped to launch Eminem's career as we know it. However, this success was bittersweet, as Eminem was struggling with drugs and alcohol behind the scenes.
In a raw New York Times interview, Eminem admitted "I used to get pills wherever I could. I was just taking anything that anybody was giving to me." In a later interview with the paper, an introspective Eminem added that "I was the worst kind of addict, a functioning addict."
However, the "functioning" stopped when he overdosed on methadone in 2007. But Eminem took this overdose as a wake-up call, and he has tried to stay sober for both his own health and his children.
Eminem takes on the president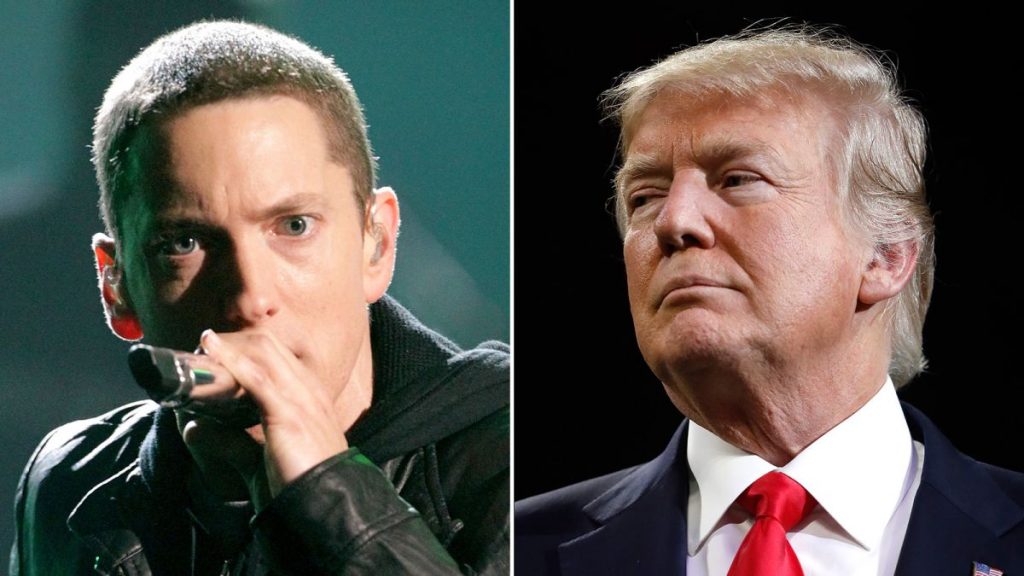 Eminem has had many legendary beefs with everyone from Machine Gun Kelly to the Insane Clown Posse. But in 2017, he took on his biggest opponent yet: Donald Trump!
At the 2017 BET Hip-Hop Awards, Eminem absolutely went off on Donald Trump on a track with no beat. He called Trump out for things like racism before issuing an ultimatum to his fans: "Any fan of mine, who's a supporter of his, I'm drawing in the sand a line. You're either for or against."
This led to interesting consequences, including a visit from the Secret Service. But the real impact was on the fans he lost. Speaking with Billboard, Eminem guesses that he lost half his fans, but he was fine with that. "It's my artistic license to express myself," he said. "At the end of the day, if I did lose half my fan base, then so be it, because I feel like I stood up for what was right and I'm on the right side of this."
Family man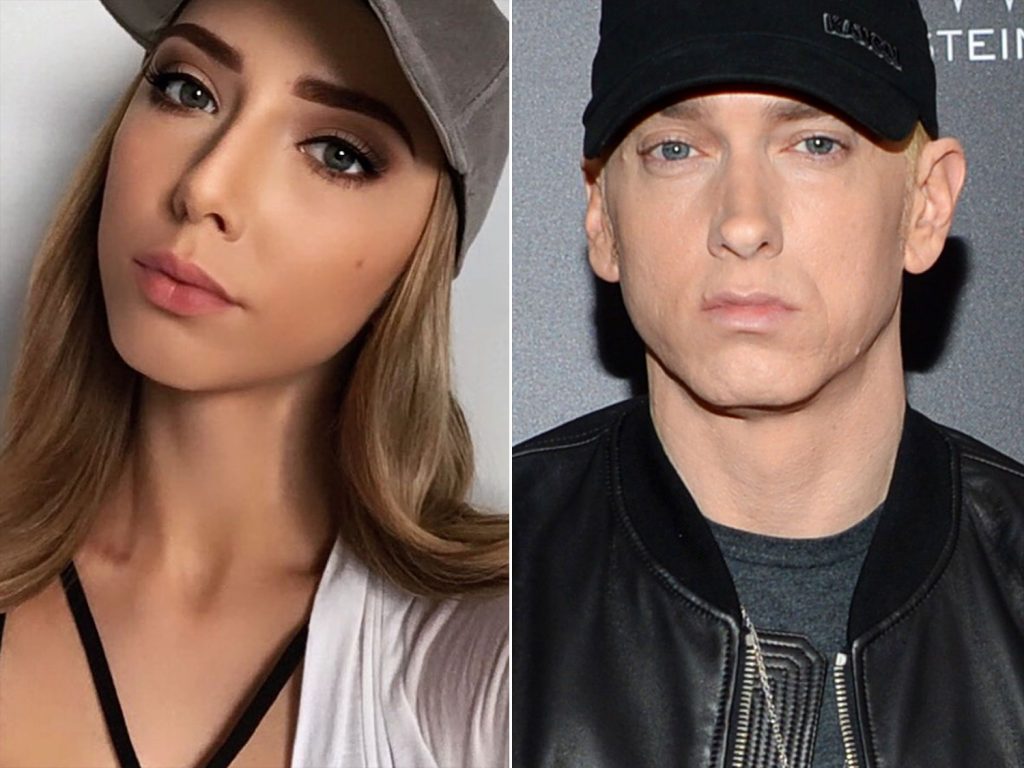 While Eminem has cultivated a sadistic rap persona with his Slim Shady character, in real life he is a devoted family man to his three children. In 2020, he told Mike Tyson about his pride in his daughter Hailie graduating college with a 3.9 GPA. He shares Hailie with his ex-wife Kim Scott. He also adopted Hailie's younger half-sibling Stevie in 2005. Formerly known as Whitney, Stevie came out as non-binary in August 2021. Eminem also adopted his niece Alaina in the 2000s. Her mother, Kim's twin sister Dawn Scott, died of drug abuse in 2016.
In addition to taking care of his family, Eminem has been giving back to the community. During the 2020 COVID-19 pandemic, Eminem gave out meals to families in need. Humorously, these meals were known as "Mom's Spaghetti" after the lyric from "Lose Yourself." Eminem also donated $250,000 to Detroit via his Marshall Mathers Foundation in 2020.
What has Eminem been up to lately?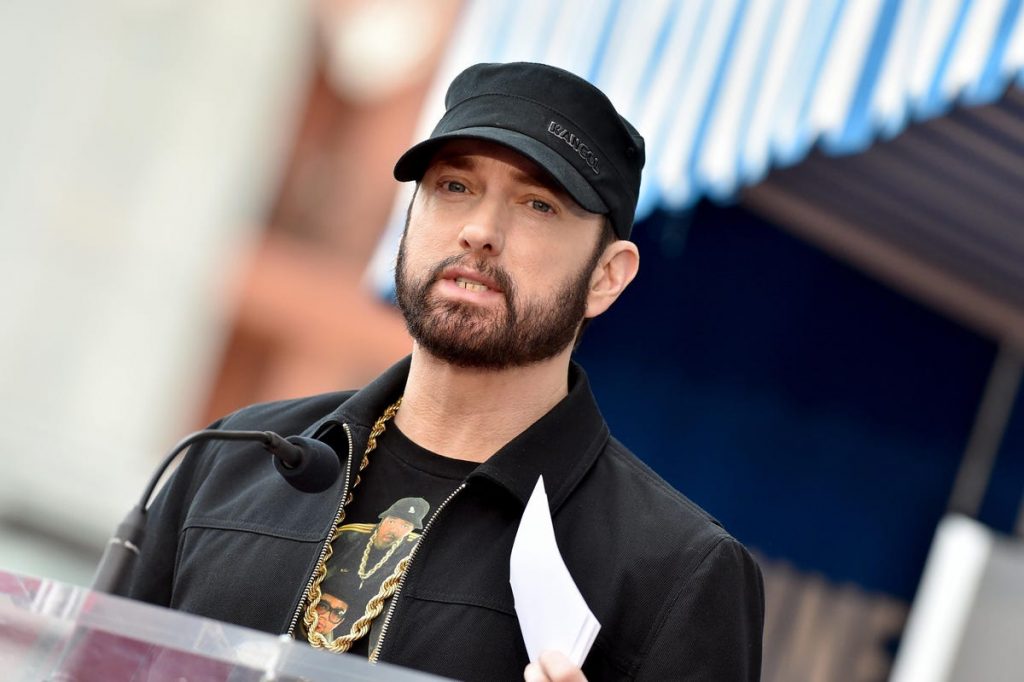 Eminem hasn't stopped making music. In January 2020, he released Music to Be Murdered By, making him the first artist to have 10 consecutive number-one albums in the U.S. He added 16 more tracks to it in a deluxe edition called Music to Be Murdered By Side B that December.
In March 2021, Eminem released a song called "Tone Deaf" in response to a TikTok campaign to cancel him for his past controversial lyrics. And in August 2021, he featured on a Nas track called "EPMD 2," where he paid tribute to many hip-hop legends.
Outside of music, Eminem continues to makes waves. He will appear in Big Daddy Kane's upcoming Netflix hip-hop documentary Paragraphs I Manifest. He also has a cameo as as Richard Wershe Jr., a.k.a. White Boy Rick, in 50 Cent's upcoming Starz drama series BMF. And Marvel Comics has honored him with an official cameo in their X-Men "Hellfire Gala" storyline.
Oh, and Eminem's official YouTube channel hit 20 billion views in June 2021. He is the first hip-hop artist to achieve this, and it just goes to show that Eminem is as relevant now as he ever was!