For the most part, actors don't become major stars if they aren't already beautiful. And most of them hope for big roles in movies or television that help show off their beauty to the world.
However, some beautiful actors get cast in major roles when the unthinkable happens: the showrunners decide to make them look as plain or even downright ugly as possible!
Which actors are we talking about? Keep reading to discover our roundup of plain TV characters who just happen to be stunning beauties in real life.
Ariel Winter in 'Modern Family'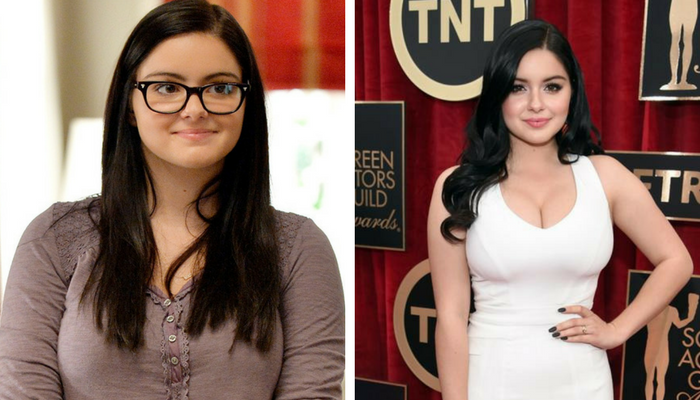 Keeping Ariel Winter looking plain and nerdy on Modern Family was a real uphill battle. She was cast in the role when she was very young. And the show stayed on the air so long that the wardrobe and makeup departments had to contend with her becoming a buxom beauty before our very eyes.
By the end of the show, Winter basically had a Clark Kent/Superman thing going on. All she really had to do was ditch the glasses and the shy girl clothing to let her inner queen out!
Hannah Waddingham in 'Game of Thrones'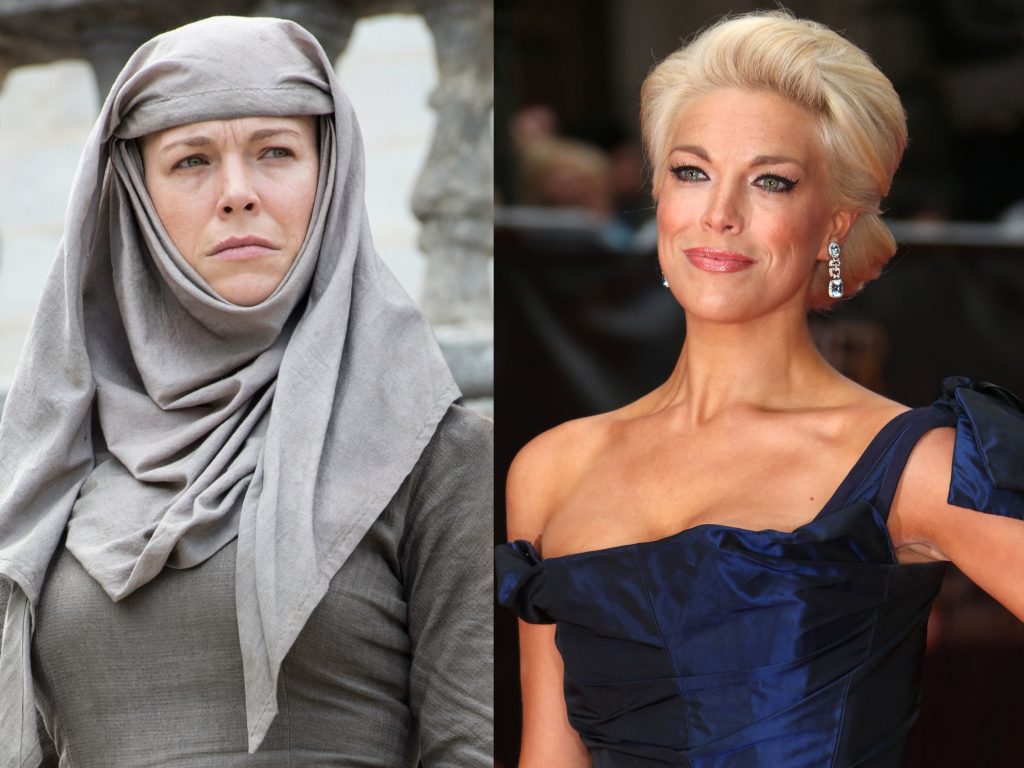 To say that showrunners gave Hannah Waddingham a conservative makeover on Game of Thrones is putting it lightly. In playing the nun Septa Unella, her hair and body were covered with many layers of clothing of religious clothing. To top it off, she is best remembered for condemning the sins of others with a single word: "shame!"
Once Waddingham gets out of her Game of Thrones getup, though, she looks more like a rockstar than a nun. With her beautiful hair, arched brows, and mischievous smile, she looks like she is ready to cause some of the trouble that the nuns in the show were worried about!
Naomi Grossman in 'American Horror Story'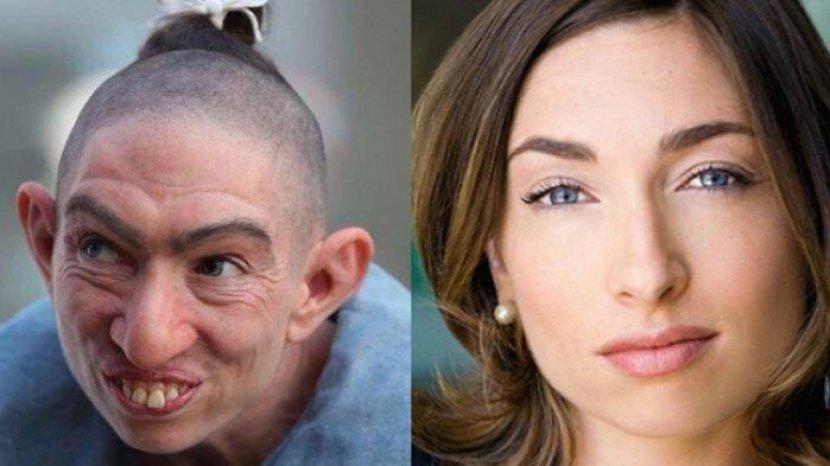 There is no greater transformation on this list than Naomi Grossman. In American Horror Story, she plays the character Pepper. And three hours of makeup on set each day helped make her look completely different.
Once you get that makeup off, we can see that Grossman is a striking and regal beauty. And it's safe to say nobody would recognize her as Pepper if they saw her walking down the street.
America Ferrera in 'Ugly Betty'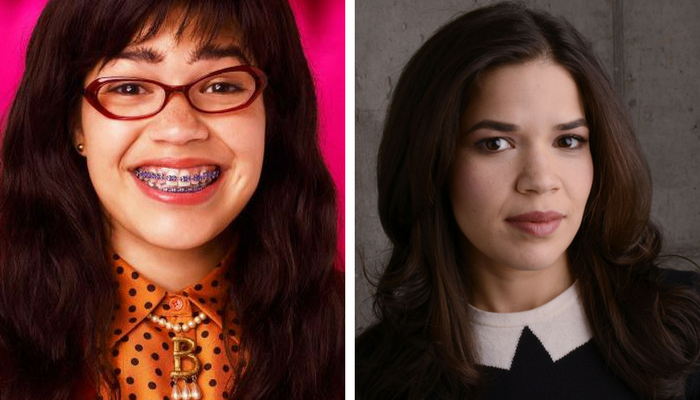 When she accepted the lead role in Ugly Betty, it was a given that the show would make America Ferrara look more…well…ugly! And this was mostly accomplished through a combination of big glasses and even bigger braces, though the character also tended to skip makeup, have bad eyebrows, and wear out-of-date clothing.
Why did the show have to take so many steps to put the "Ugly" back in Ugly Betty? Because America Ferrera is a stone-cold beauty, that's why! This is part of why she still looked so damn cute even in the "ugly" face.
Laura Gomez in 'Orange Is the New Black'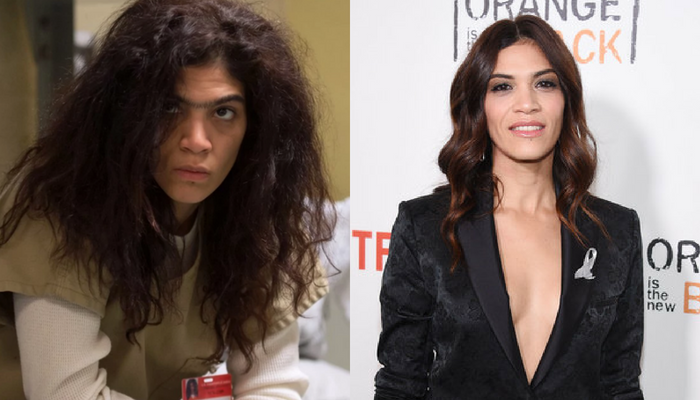 Laura Gomez is another actor whose appearance changes over the course of a show. On Orange Is the New Black, she plays Blanca Flores, an unkempt woman of very few words and a very, very fierce face!
By the fifth season, we finally got to see more of what the real Laura Gomez looks like. And when you see the images side-by-side, it's difficult to believe you are looking at the same person!
Gwendoline Christie in 'Game of Thrones'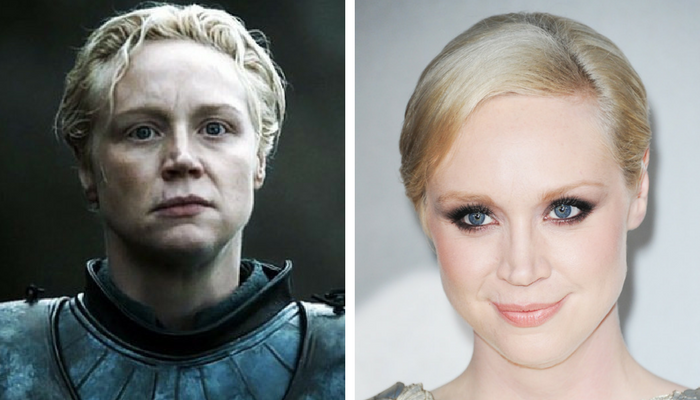 At 6'3″, Gwendoline Christie is quite taller than the average Hollywood leading lady (and most of its leading men, for that matter). As a result, she is often cast in intimidating and nearly sexless roles. This includes playing Captain Phasma behind a mask in the Star Wars sequels and playing Brienne of Tarth (affectionately nicknamed "The Big Woman") on Game of Thrones.
Both the nature of her character and the setting of the show meant that her warrior character on Game of Thrones didn't rely on makeup to enhance her appearance. But all it takes is a bit of makeup and some non-medieval clothing to reveal that Christie is an absolute knockout (albeit one who could knock you out if she gets annoyed).
Taryn Manning in 'Orange Is the New Black'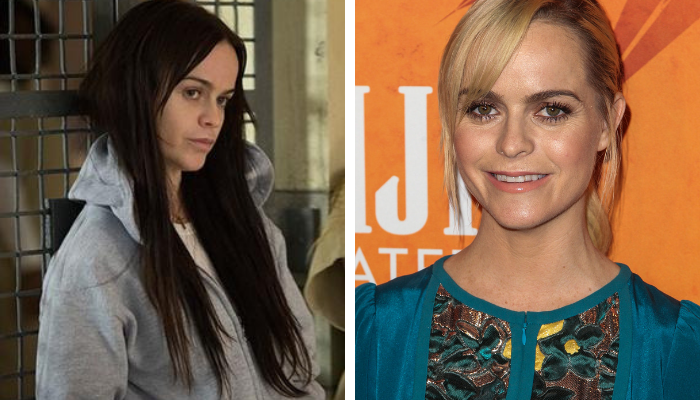 Taryn Manning is another Orange Is the New Black star who had to look very plain. In this case, her plain looks helped her bring out the southern trash vibes of "Pensatucky," a drug-abusing character who alternates between being devious and being dangerous.
Over the course of the show, different plotlines help to soften Pensatucky as a character. But Manning herself doesn't need seasons of character development to soften her own appearance. Once you see her outside of the Pensatucky makeup and wardrobe, you'll see a woman who looks much more like a movie star and much less like a convict.
Elisabeth Moss in 'Mad Men'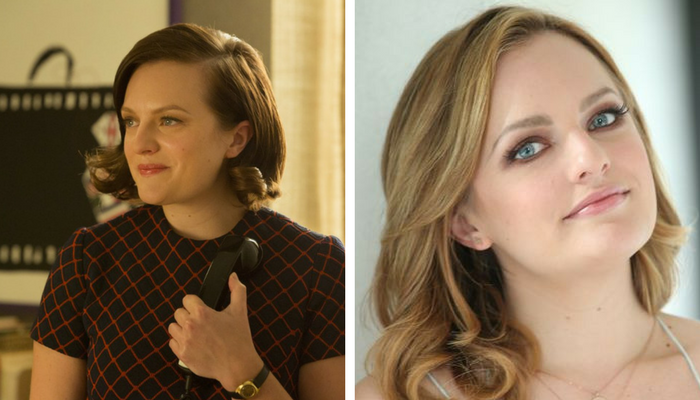 Look, before you send us an angry comment, we get it: on Mad Men, we watch Elizabeth Moss's Peggy grow and change over time, which helps to let more of her inner beauty out. But it doesn't change the fact that she is introduced to us as a frumpy secretary, and she never really gets to shake that image on the show.
Off the show, though, Moss shakes that image every day. In fact, she looks a lot more like the kind of woman who should be starring in glamorous ads rather than helping to write them.
Melissa Rauch in 'The Big Bang Theory'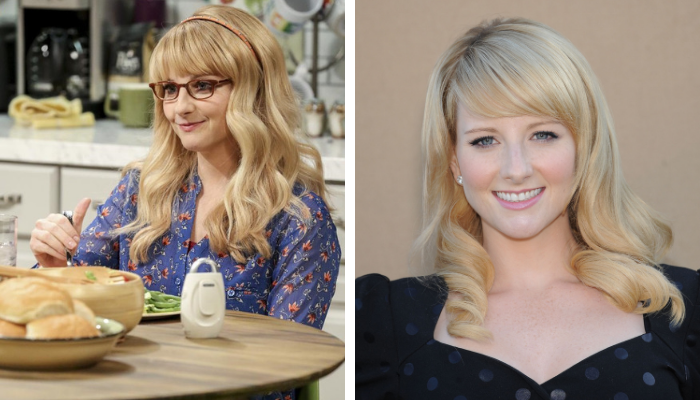 The Big Bang Theory eventually evolved into a show where we had three core leading ladies alongside the four leading men (poor Raj always had trouble landing a lady of his own). However, the show never abandoned the original idea that Kaley Cuoco's girl-next-door Penny was "the hot one."
This meant Melissa Rauch, who played Bernadette, was typically portrayed as a mousy gal with a squeaky voice and big glasses. In reality, Rauch is a knockout bombshell who looks better suited to walking a runway than marrying a nerdy engineer as her character did on the show.
Mayim Bialik in 'The Big Bang Theory'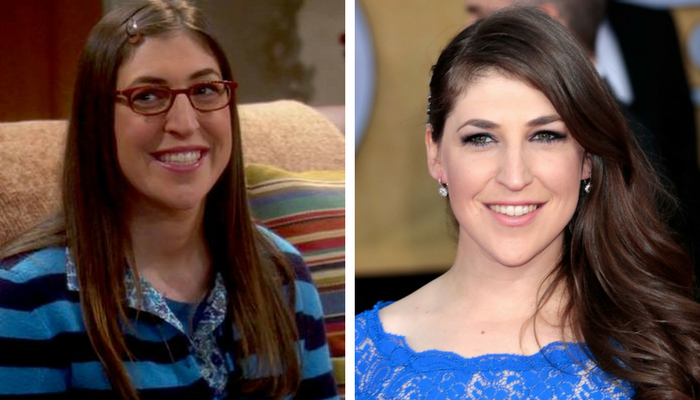 Mayim Bialik is a special entry on this list. After all, the entire world saw her as a youthful beauty on her hit TV show Blossom. When she appeared on Big Bang Theory as a plain nerdy girl and the perfect romantic pairing for Sheldon, many viewers thought this is simply how Bialik looked all these years after her original show went off the air.
However, Bialik is in the same boat as her female costar Melissa Rauch. Once you get her out of the glasses and the thrift-store couture fashion, you can see that Bialik has never lost her leading lady looks.